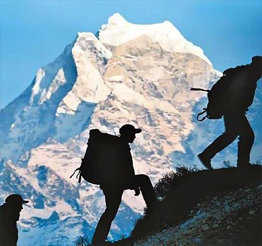 Are you interested in scrambling up hills & mountains& crossing forests? Haven't you seen people lugging rucksacks going up a hill to watch a sunset or to breathe fresh air?
There are adventures who like to be surrounded by snow, clasped mountains, to drink from streams & to sleep under starry skies.
So get ready for the trekking .Trekking involves hard physical work and it could be potentially dangerous. It is certainly not for a relaxing, do-nothing holiday, but there are recurs in other forms. The thrill of the outdoors, flowerily valleys, gurgling Himalayan streams, snowy mountains lofty cedars are things that will remain fresh in your memories for ever.
Trekking can be done either individually or in organized groups. The style depends on where you want to go, how much time you have, your level of experience in outdoor survival, how much venture you seek how much you can spend.
Going individually means more privacy, but in an organized trek there are guides, porters &cooks hired by the travel agency to help
Instructions:
Each 7 every one must carry his own water bottle.
Don't drink water from rivers.
Take rest for 10 minutes after every hour of trekking
Trekker should hug the hill while moving on a narrow mountain path
Never try to go around very steep gradients & cliffs.
Don't attempt climbing directly
You must possess well fitting waterproof, lightweight shoes.
If the altitude is high have warm cloths
Have a pair of cotton trousers in addition to jeans & a water proof jacket
Dark sunglasses help avoid snow blindness
Sleeping bags & rucksack must be chosen carefully