Are you wishing to sail through the winding rivers and streams and have a great time? Then the river rafting tours are ideal for adventure lovers like you. Embark on various river rafting holidays to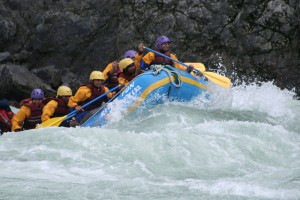 the Himachal region, north eastern India, Garhwal region and other places.
The magic behind River Rafting also referred, as White Water Rafting is the extreme and never-ending thrills in the untamed rivers. The rivers in the upper Himalayas are among the best in the world for river rafting sports, with many staircase rapids that challenge the body and spirit of the river runner. The river cuts against the rocky banks, crash into rocks, crevices and breaking into white water rapids, foaming, swirling, and falling in a thunderous din. India has a wide range of river rafting regions, which suits both amateurs and professionals
Many of us may have seen kayaking, either on a river trip, or on the television – its looks exciting, a big rapid, a colorful kayaker weaving a path through the waves and all the randomness of white water. You may have wondered, if you could be that person in the kayak, if you could look as graceful and have that much fun, being so much closer to the water than being on a raft.Learning to kayak is challenging, but the rewards are well worth the effort. Kayaking will help you get some exercise, along with running some fun rapids, and of course keep you in touch with the great outdoors.
The Himalayas, stretching 3,200 kilometers along India's northern frontiers, cradle numerous rivers which drain them all year round. This abundance of mountain rivers makes India a world class whitewater destination' with plenty of first-descent and exploratory possibilities.In the state of Jammu & Kashmir, the river Indus, flowing across high altitude deserts, offers fascinating day trips based out of Leh, the District headquarters of Ladakh. A 2-3 days trip starting out of Leh is also possible. An ultimate experience would be the 14 day Zanskar river expedition. July till end of September is the best time.
In the hills of the state of Uttar Pradesh, the Ganga' and its tributaries make up for the most popular whitewater in India. Our river camp lies an hour upstream of Rishikesh on the Ganga, making an excellent getaway from hectic city life. Day trips on the Ganga and 4-5 days expedition style trips on the Alaknanda/Bhagirathi' and Ganga are easy options right from October to April.
The Kali river forming the Indo-Nepalese international boundary makes an exhilarating mix of long float trips, great angling and class III/IV white water, during October to May.
Arunachal Pradesh, recently open to tourism, is for the adventurous explorer due to its inaccessibility and remoteness. The river Brahmaputra, one of the greatest rivers in the world, offers a 10 day expedition through dense rainforests, tribal settlements and some great white water. The river Subansari, the biggest tributary of the Brahmaputra also offers a spectacular 4-5 day expedition through deep gorges and some of the remote parts of the state. The best season for these rivers is November to March..
River Rafting Regions In India
River Rafting In Ladakh
The most popular rafting sites include Ladakh in Jammu & Kashmir, the Garhwal Himalayas in Uttaranchal, the Beas River of Himachal Pradesh and Teesta River in Sikkim. The rafting trip can be started off from the options available on the Indus River and its major tributaries. The best stretch for professionally guided runs in white water is on the Indus between Spituk and Saspol. Beyond Saspol, the river becomes difficult and running it requires technically skilled participants and careful organization.
White Water River Rafting On Zanskar River
The most difficult and exciting white water rafting option is on the Zanskar River, along its spectacular course through the gorge in the Zanskar mountains, between Padum and Nimo regions. This river course is suitable only for well-organized white-water expeditions, prepared for several days for river running and camping in the absolute wilds of Zanskar region.
River Rafting On The Ganges
Ganges River has always remains a mystery for explorers and full of surprises for the rafters. Ganga near Rishikesh in Uttaranchal is a popular spot for white water rafting. The whitewater river rafting stretch of the Ganges is from Kaudiyala to Rishikesh where the river has 12 major rapids over 36-kms long, most of which are easily negotiable and some require our expertise.
Down river from Devprayag, the Ganga changes into a pool drop river. This stretch of almost 70-kms is a perfect for the amateur and the novice, for here the river offers some fine grade III rapids and two grade IV rapids, the 'WALL' at Bysi and the 'Golf Course' 4-kms. Below Shivpuri village; each followed by deep and placid pools. Sandy beaches line the river at intervals, allowing river rafters to pull up alongside. The slopes on either side are covered with oak, pine, spruce and fir, with the occasional village and its terraced fields dotting the landscape. Wildlife can be sighted at a distance, especially spotted Deer, Monkeys, Leopard, while multi hued butterflies flit among flowering.

Ganges River has always remains a mystery for explorers and full of surprises for the rafters. Ganga near Rishikesh in Uttaranchal is a popular spot for white water river rafting. The whitewater river rafting stretch of the Ganges is from Kaudiyala to Rishikesh where the river has 12 major rapids over 36-kms long, most of which are easily negotiable and some require our expertise.
River Rafting On The Alaknanda River


Alaknanda River Expedition takes you close to the Himalayas. The expedition begins at Rudraprayag and sails to Rishikesh. The adventure down the Alaknanda and Ganges is a expedition of lifetime and graded as IV.
River Rafting In Himachal Pradesh
Himachal Pradesh's snow-fed rivers of0fer tremendous opportunities for the challenging sport of rafting. The rivers Chandrabhaga in Lahaul, the Satluj near Shimla, the Ravi near Chamba and the Beas near Kullu offer immense white water rafting possibilities. There are tremendous river running expedition oppurtunities between Shamshi and Aut on the Beas. The 20-km stretch has exciting and extreme white water rapids.
River Rafting On Teesta River
River Teesta of Sikkim extends the most challenging invitation to the rafters in the eastern Himalayan region. Teesta provides a series of white water rapids with various intensities at regular intervals. Meandering down the rough and rugged mountain river, one can savour a blend of nature and adventure.
River Rafting On Brahmaputra River
The mighty Brahmaputra cascading down the heights of immense beauty across Tibet into the north-eastern state of Arunachal Pradesh is an exciting experience for the rafters. Though inaccessible, the region is the ultimate destination a rafter can look for.
River Rafting Places in India
Teesta River, Sikkim
Beas River, Himachal
Ganges River, Garhwal, Uttranchal
Gangotri, Garhwal Himalayas, Uttranchal
Lake Paradise, Nanital, Uttranchal
Asan Barrage,Uttranchal
Kudiyala Rafters Club, Uttranchal
Satluj River, Shimla, Himachal Pradesh
Ravi, Chamba, Himachal Pradesh
Chandra, Lahaul, Himachal Pradesh
Bhalukpung, Assam
River Rafting Tips
Cautions & Essentials For River Rafting
If you are a normal healthy person and without any fear of water, then rafting can be your sport. One can become a skilled rafter in just a few hours of training and the rafting training facilities exist in different parts of India. Many tourist agencies and state departments also conduct courses in river rafting.
Carry dry bags dry bags or boxes to secure small personal items you may bring with you and it usually also have room to accommodate an extra layer of clothing. Be sure to take any necessary prescription medications such as inhalers, bee-sting kits, insulin etc. Avoid taking your car keys, wallets, cell phones etc. with you for the rafting trip. Also take along sunscreen, sunglasses with a strap to secure them and a camera. Disposable waterproof cameras are easily available, easy to take along with you and take good quality pictures.
Appropriate rafting gear on most rivers during the summertime is a simple swimsuit, nylon shorts, tennis shoes or sandals, and a hat. Spring and autumn rafting trips are the ones that require additional clothing. In any case be sure to dress in layers so that you can easily add or remove articles, as you need. Avoid cotton clothing while rafting, except in summers as cotton takes away the warmth from your body. Wool, polyester fleece and other synthetic materials will keep you warmer and will dry faster than cotton. Many rafting clubs have wetsuits available for rent.
Best time for river rafting
November to June

Image Gallery of River Rafting