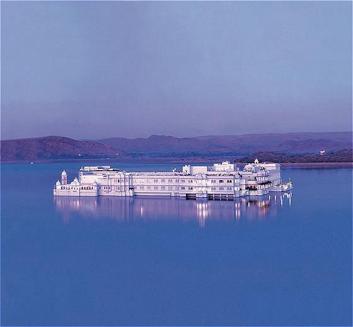 The city of lakes, Udaipur.
Udaipur also known as the City of Lakes, regarded as one of the most romantic cities of the World and subsequently, also known as the 'Venice of East'. In context of Rajasthan, Udaipur is the second most-sought after tourist destination of the state, the first being Jaipur. Udaipur had been the capital of Mewar for centuries.
Weather

In Summer: 38.3 C (Max) – 28.8 C (Min)
In winter: 28.3 C (Max) – 8 C (Min)
Rainy Season : from July to Mid Sept, and very humid (Upton 90%)
Rainfall: 62 cms.
Our suggestion: Best time to come: Sep to March
Udaipur is one of the favorite tourist destinations in India. The beautiful lakes, palaces and lively workspaces and culture attract numerous foreign and domestic visitors.
Udaipur is undoubtedly a dream destination for a romantic holiday. Every year, thousands of tourists come from all over the globe to visit this romantic city. Udaipur is easily accessible from all the major cities of India including Delhi, Mumbai and Jaipur.
The foundation of the city has an interesting legend associated with it. According to it, Maharana Udai Singh, the founder, was hunting one day when he met a holy man  meditations on a hill overlooking the Lake Pichhola. The hermit blessed the Maharana and advised him to build a palace at this favorable located spot with a fertile valley watered by the stream, a lake, an agreeable altitude and an amphitheater of low mountains. Maharana followed the advise of the hermit and founded the city in 1559 A.D.
What to see:-
City Palace
Standing on the east bank of Lake Pichola is a massive series of palaces built at different times from 1559. They also have great views of Jag Mandir on one side and the city of Udaipur on the other.
Lake Palace
The Lake Palace was built in 1743-1746. It is made of marble and is situated on Jag Niwas island in Lake Pichola. It was originally built as a royal summer palace, but is now a luxury 5 Star hotel.
Jag Mandir
Jag Mandir is another island in Lake Pichola which is known for its garden courtyard. Shah Jahan took refuge here while revolting against his father. There is a restaurant run by the HRH group of hotels.
Monsoon Palace
Monsoon Palace also known as Sajjan Garh Palace The summer resort of the Maharajas is atop the hill overlooking all of the lakes. This palace had a way to collect rain water for consumption all year around.
Jagdish Temple
The Jagdish Temple is a large Hindu temple in the middle of Udaipur. It was built by Maharana Jagat Singh Ist in 1651 A.D.
Fatah Sagar Lake
Fatah Sagar Lake is situated in the north of Lake Picholas. It was originally built by Maharana Jai Singh in the year 1678 AD, but later on reconstructed and extended by Maharana Fatah Singh after much destruction was caused by heavy rains. In 1993-1994, the water vanished from the lake, but in 2005-2006, the lake regained its water.
Lake Pichola
Lake Pichola is a lake that has two islands, Jag Niwas and the Jag Mandir. This lake is 4 km long and 3 km wide, originally built by Maharana Udai Singh II. There are many ghats, like the bathing and washing ghats, which can be approached through boats from the City Palace of Udaipur (Bansi Ghat.
Saheliyon-ki-Bari
Sahelion ki Bari was laid for a group of forty-eight young women attendants who accompanied a princess to Udaipur as part of her dowry.
Gulab Bagh and Zoo
A rose garden laid out by Maharaja Sajjan Singh is situated near the palace on the east side of Lake Pichhola. A library in the garden has a collection of ancient handwritten manuscripts and books. Within the garden, there is a zoo with tigers, leopards, Chinkara gazelle, birds, and many wild animals.
Doodh Talai
A rock and fountain garden and the sunset point from which one can enjoy the sunset view in Lake Pichhola and a panoramic view of the old city. Also one can enjoy the (rope way) which connects one of the dudh talai gardens to Karni Mata temple.
Bharatiya Lok Kala Mandal
A museum of folk arts. It also hosts puppet shows in its auditorium.
Maharana Pratap Memorial or Moti Magri
Atop the Moti Magri or Pearl Hill, overlooking the Fatah Sagar Lake is the memorial of the Rajput hero Maharana Pratap with a bronze statue of the Maharana astride his favourite horse Chetak.
Nehru Garden
This is a park situated in the middle of Fatah Sager Lake. This park covers about 41 acres, with flower gardens and a lily pond.
Bagore-ki-Haveli
This is an old building built right on the waterfront of Lake Pichola at Gangori Ghat. The haveli now stages Rajasthani traditional dance and music.
Ahar Museum
Located about 2 km east of Udaipur is a cluster of cenotaphs of the Maharanas of Mewar. There are about nineteen cenotaphs of Maharanas cremated there. One cenotaph is that Maharana Amar Singh, who reigned from 1597 to 1620. Nearby is also Ahar Museum, where on display is limited but very rare earthen pottery, as well as some sculptures and other archaeological finds. Some pieces date back to 1700 BC, and a tenth-century metal figure of Buddha is a special attraction.
Shilpgram
A crafts village located northwest of Udaipur, Shilpgram hosts an annual crafts fair which is one of the biggest in India; people from different states in the country have stalls showcasing their art and crafts work.
Neemach Mata Temple
This temple is located on a green hill in the Dewali area of Udaipur. It has both stairs and an uphill slope way to climb, which is around 800 meters.
Udaipur Solar Observatory
Asia's only solar observatory, the Udaipur Solar Observatory, is situated on an island in the middle of the Lake Fatah Sagar.
Sukhadia Circle
Sukhadia Circle (Square) is a large roundabout in the city's northern suburb of Panchwati, on the road to Ranakpur and Mt. Abu. The Circle is a popular recreational centre and meeting place.
Excursions
Udaipur offers great excursions to its outskirts. Hire a cab or explore by yourself to the some of the great escapades on the city outskirts.
Eklingji Temple – 22km north of Udaipur is one of the most famous temples of Rajasthan. The magnificent architecture of Eklingnath Temple is simply remarkable.
Haldighati – An important historical site in the context of Rajasthan at a comfortable distance of 40 kms from the city of Udaipur. The term Haldighati has been derived from the yellow colored soil of the place that gives a sense of turmeric (in Hindi).
Jagat Temple – Being located at the village called Jagat, at a distance of 58kms in the south-east of Udaipur. Built in 961 A.D, the Jagat Temple is renowned for its intricate carvings in the exteriors.
Kankroli – A small town, located at a distance of 65 kms from the city of Udaipur mainly known for its temple, which is sited on the banks of renowned Rajsamand Lake.
Nagda – Located besides Bagela Lake at a distance of 23 kms in the north-west of Udaipur on the way to Nathdwara. Nagda comprises many small and big temples, but the main attraction is gained by its 'Sas-Bahu' temple.
By air
Maharana Pratap Airport, is 24km from the city.There are daily flights from Delhi, Mumbai and Jaipur on Jet Airways, Indian Airlines, Air Deccan, and Kingfisher Airlines.
By train
There are now daily trains from New Delhi, Jaipur, Mumbai and Ahmedabad.
By bus
Udaipur is connected by an efficient bus service with most Rajasthani towns including Jaipur, Jodhpur, Bikaner, Ajmer, Mount Abu. Buses also head south to Ahmedabad with connections to Mumbai but it is not a short journey. There are comfortable sleeper coaches available for longer trips.
The city lies on the Golden Quadrilateral, midway between Delhi and Mumbai National Highway (NH) 8; it is around 700km from either metro. The roads in this part of the country are paved and fit for private vehicles.
State Transport Authorities and private tour agents operates daily buses between Udaipur-Jaipur, Udaipur-Delhi, Udaipur-Ahmedbad, Udaipur-Jodhpur. Some of these buses also have sleeper coaches for a comfortable journey.
Facts about Udaipur
Location: Situated in Southern of Rajasthan.
Distance: New Delhi ( 670 km), Jodhpur (260 km), Jaipur (420 km)
STD Code: 0294
Area: 37 sq km.
Language: Hindi, English & Mewari
Altitude: 577 meters
Useful Information:
Airport Distance
25 km
Tourist Info Center,
Tourist Reception Center,
Fateh Memorial
Suraj Pol
Tel No 0294-2411535.