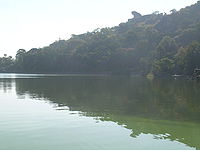 Mount Abu – The only hill station in Rajasthan, Mount Abu retreat set amidst the lush forested hills . Dilwara Jain Temples, Guru Shikhar, Nakki Lake.
Mount Abu is the only hill station in Aravalli Range of Rajasthan is located at an elevation of 1220 meters. Mount Abu is 58 km from Palanpur (Gujarat),214 kms from Ahmedabad, 182 kms from Udaipur. The mountain forms a distinct rocky plateau 22 km long by 9 km wide. The highest peak on the mountain is Guru Shikhar, at 1722 meters above sea level. Mount Abu is home to a number of other interesting places that attract tourists in large numbers. A major tourist attraction here is the Nakki Lake, a nice spot for family outings and picnics. A large number of hotels in Mount Abu are located around this area.
Transportation
Air : Nearest  airports are Udaipur and Ahmedabad.
Rail: Nearest  railhead is Abu Road (27 kms).
Road: By road  Mount Abu to Ahmedabad 214 kms, Bombay 835 kms, Delhi 768 kms, Jaipur 515 kms, Udaipur 182  kms, Jodhpur 291 kms, Ranakpur 168 kms.
Bus : Regular  buses connect Mount Abu with Abu Road, Achalgarh, Ahmedabad, Ranakpur, Ahmedabad, Udaipur,  Abu Road. Toll Tax : Rs. 3/- for visitors to Mount Abu by Car.
Vehicle Tax : Car Rs. 5/-,  Bus Rs. 10/-
Taxi: Taxis and  Jeeps are available from Abu Road to Mount Abu.
Other places of tourist importance in Mount Abu are Guru Shikhar, the highest point in the place, the Sunset Point, the Achalgarh Fort and the Brahma Kumaris Spiritual University & Museum.The road leading to Mount Abu is a curved one characterized by arid region dotted with huge rocks in weird shapes and high velocity winds. Mount Abu is home to a number of Jain temples. The Dilwara Temples are a complex of temples, carved of white marble, that were built between the 11th and 13th centuries AD. The Achalgarh fort, built in the 14th century by Rana Kumbha of Mewar, stands nearby. It encloses several beautiful Jain temples, including the Achaleswar Mahadev Temple and the Kantinath Temple. Nakki Lake is another popular visitor attraction of Mount Abu.There is the Toad Rock on a hill near the lake. Raghunath Temple and Maharaja Jaipur Palace are also on hills near Nakki Lake.
Weather
In Summer: 33.8 C (Max) – 23.3 C (Min)
In winter: 20.3 C (Max) – 0 C (Min)
Rainy Season : from July to Mid Sept, and very humid (Upton 90%)
Our suggestion: Feb to June , Sept. Dec.
Raghunath Temple is a famous shrine in the town, while the rock formations such as Toad Rock, Nun Rock and Camel Rock are worth seeing. The world headquarters of the Brahma Kumari order of lady renunciates is also located here, as is the World Spiritual University of the same denomination.
What to see

Gaumukh Temple: A natural spring flowing through a sculpted cows head gives the shrine its name. The famous yagna of sage Vashishtha was performed here. A beautifully sculpted hill temple of Arbuada-the mighty serpent stands against the beautiful backdrop. Nearby is the magnificent marble image of Nandi, the celestial bull rescued by Arbuada.
Dilwara Jain Temple: These beautifully carved temples built between 11th and 13th century A.D. The Vimal Vasahi temple is the oldest of these dedicated to the first Tirthankara. Built in 1031 A.D. (by Vimal Shah-a merchant and representative of then Gujarat ruler), it is a superb example of temple architecture.
Adhar Devi Temple: The temple is chiselled out of a huge rock reached by a flight of 360 stairs.
Sunset Point: Spectacular sight of the setting sun when the hills are covered in the golden glow can be viewed from here.
Honeymoon Point: It offers an enchanting view of the verdant plains and valleys. The place looks most beautiful during the dusk hours.
Gardens and Parks: Beautifully laid parks and gardens are interspersed throughout the hilly paradise. Ashok Vatika,Gandhi park, Municipal Park,Shaitan Singh Park and Terrace Garden are some of the noteworthy gardens.
Museum and Art Gallery: Located at the Raj Bhawan, it was a collection of archaeological excavations dating back to 8th-12th century A.D. It also has Jain bronze carvings,brassworks etc. for viewing.
Excursions
Trevors Tank (5 km): Named after the British engineer who constructed it, Trevors Tank is a delight for birdwatchers with densely wooded hills that are a haven to pigeons, peacocks and partridges.
Achalgarh (8 km): An impressive fort with some beautiful jain temples enclosed within. Among the noteworthy temples are Achaleswar Mahadev Temple (1412 A.D.) and Kantinath Jain Temple (1513 A.D.) . The latter has gold plated image. Mandakini Kund and a sculpture of Parmar Dharavarsh are situated close to the Achaleswar Mahadev Temple. The Fort was built in the 14th century A.D. by Rana Kumbha and is approachable by a motorable road.
Guru Shikhar (15 km): The highest peak on the mount (1722 mts. Above the sea level) allows a birds eye view of the sylvan surroundings of Mt. Abu. A small Shaivite shrine and a temple of Dattatreya standing on the shikhar are worth a visit.
This place is held in reverence by Jains as well since Jain scriptures record that Lord Mahavira, the 24th Jain Tirthankar (spiritual leader), also visited Mount Abu and blessed the city.
Facts about Mount Abu
Location: Situated in Southwest end of Rajasthan.
Distance: Jodhpur (326 km), Udaipur (185 km), Ahmedabad (221 km)
STD Code: 02974
Population: .02 millions
Area: 20 sq km.
Language: Hindi, English & Rajasthani
Altitude: 1219 meters
Useful Information:
Nearest Airport
Udaipur
Tourist Reception Center,
Opposite Bus stand,
Tel No.
+91-2974-243151
Important Tel Nos.
Tourist Information
+91-2974-243151
S. D. O.
+91-2974-238489
Railway Enquiry
+91-2974-238697
Bus Enquiry
+91-2974-243434
Police
+91-2974-243333
Telecom Centre
+91-2974-243107
Govt. Cottages
+91-2974-238935
Circuit House
+91-2974-238933/3464
Post Office
+91-2974-243170