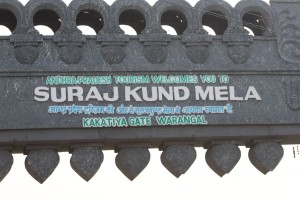 Surajkund Mela comes each year in Surajkund situated at the borders of New Delhi and Faridabad, India. It is a very unique fair, also called as Surajkund Festival, where talented artistes from diverse parts of the world come to showcase their rich crafts and traditions of their respective states. Surajkund is the annual fair that showcases the optimum handlooms, handicrafts, authentic fragrances & flavors of rich Indian cuisines. National and State awardees craft person from every corner of India wind their way to Surajkund. The craft persons from all SAARC Nations are also participating in the Surajkund Crafts Mela.
This year in 2013 the theme of Surajkund Crafts Mela is Karnataka State.
Start Date: Friday, 1 February 2013
End Date: Friday, 15 February 2013
Venue: Faridabad, Haryana
Country: India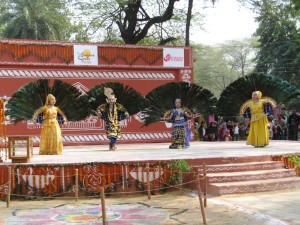 Surajkund Festival bequeath an exotic experience that comes alive when the participant artists share their artistic talent with the common people. It has an exquisite appeal owing to the graceful reveals exposed in the typical setting of a rural Indian marketplace attracting millions of observers belonging to different strata of society.
The fair chiefly emphasis on one particular state every year. It's extremely indulging range of crafts in the comfortable pastoral environs of the festival grounds truly becomes a meeting point for nimble painters, sculptors, weavers, etc. However, some vivacious programs with cultural themes and local cuisines take it to the another level and guides you that India is certainly a land of cultural diversity where all live in unity and also don't mind giving a hearty welcome even to the outsiders.
Organized annually by the Haryana Tourism Department, the Surajkund fest also allows you to buy some great works of artists that contain paintings, wood stock, textiles, ivory work, pottery, stonework, terracotta and grass work. Besides, pamper your souls with ravishing Natyashala folk dances, offer yourself completely to the decorated musical evenings arranged at the Al-fresco theater.
How to Reach
Away from the hustle and bustle of city of Delhi, Surajkund International Crafts Mela, is the place where you can come face to face with the rural ambiance of India. Surajkund lies in the Faridabad district, just 8 km away from the South Delhi. The Mela is hosted by the Surajkund Mela Authority every year from 1st to 15th February. Colorful festivity is open to visitors from 9.30 every morning to 7.00 p.m. every evening.
Surajkund lies 8 km from South Delhi. The resort is easily accessible by road.
Special conducted tours are available from Haryana Tourist Bureau at 36, Janpath, New Delhi
Buses are available from ISBT, Shivaji Stadium, Gurgaon, Faridabad and Surajkund.
Tourist cabs/ tourist coaches to the venue can be conveniently hired from Delhi.
By Road: Surajkund is well-connected to Delhi, Gurgaon and Faridabad districts headquarter towns by metalled road approachable by tour coaches, tourist taxis and one's own conveyance.
By Air: The nearest Airport is at Delhi. The complex is a 35-minute drive from the Indira Gandhi International Airport. It is about 25 km from Palam Airport.
By Rail: Delhi is the nearest Railway junction. Faridabad and Gurgaon are both linked to Delhi via Railway lines. From each of these stations, travel to Surajkund, has to be done by car/cab/tourist coach.
By Metro: Metro services are also available from Central Secretariat till Badarpur via Sarita Vihar and Mohan Estate. Badarpur locality is close to the interstate border between the city of Faridabad and Delhi.
Highlights Surajkund Crafts Mela
The crafts persons from all over India, SAARC and other neighboring countries would be selling the best of hand-looms and Handicrafts items.
Karnataka, the Theme State of this year's Fair is known for its monuments, handicrafts, hand-loom and cuisine.
Exporters and Buyers Meet to be held at Surajkund Design Galleries with assistance of DC hand-looms and DC Handicrafts
Food Court with a variety of lip-smacking Indian & SAARC countries cuisines.
Amusement Zone with playful rides and swings
Folk Dances by Schools/Colleges at Chaupal daily from 11 a.m. onward.
 Surajkund Crafts Mela  Photo Gallery