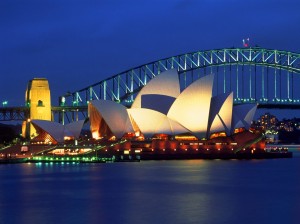 Sydney, the capital of New South Wales, Australia. It isAustralia's oldest and largest city with a population of around 4 million.Sydneyis built around a huge harbour and hosts many tourist attractions as well as a number of Beaches, bays  and a couple of  national parks.Sydneyis one of the busiest commercial hubs in the Asia-Pacific region with a cosmopolitan population, many historic sites, museums and parks.Sydney's city centre offers visitors a huge variety of attractions, including designer boutiques, fine restaurants, hip bars and lavish department stores.
History
Sydneywas first visited by the British in 1770 when Captain James Cook and Joseph Banks sailed the Endeavor into Botany Bay. The First Fleet arrived atBotany Bayin 1788 under the command of Governor Arthur Phillip.
Phillip but found Botany Bay unsatisfactory and sailed north and landed at Sydney Cove onSydneyHarbour. Phillip originally named the colony 'New Albion', but then the colony acquired the name 'Sydney', after the British Home Secretary, Thomas Townshend, LordSydney.
Places to See in and Around Sydney
You have so much to see inSydney. Lets start with the best of Sydney.
Opera House – It is the iconic building that you associate withSydney, every thing is beautiful about this, the location, the architectural design and the inside. Even if you are not the Operas-Type go ahead and take a guided tour where they will show you are around this spectacular building. If you are inSydney around New Year, you better not miss the fire works at midnight on New Years Eve here. Every year they have a different theme so you can see new theme every time and won't get bored. It is unspoken but let me say it, you should see it.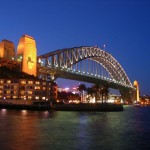 Harbour Bridge – One more iconic landmark you will see from the Opera House. For the more adventure, you can climb that bridge.
Taronga Zoo – Taronga zoo is located at very beautiful place. I recommend you take a ferry from Circular Quay to the Zoo, it be a great way to get to the zoo.
Sydney Aquarium – Sydney Aquarium is one of the best aquariums in the world. It has a lot of aquatic animals along with some local animals from the Great Barrier Reef.
Luna Park – This is an amazing amusement park situated right in the middle of the city.
Darling Harbour -DarlingHarbour is one of the best place to enjoySydney's night life. One can find all kind of restaurants that satisfy every taste palate – Indian, Mongolian, Continental, Chinese, French, Italian all served by the sea side over looking the Harbour Bridge. Moreover several of the best pubs and clubs in this region can be find here.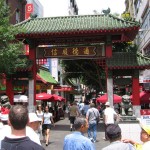 China Town – This is a big market, you can get a bargain for souvenirs or T-Shirts and some unique items here.
Historic Buildings
Queen Victoria Building – Queen Victoria Building was a historic building which is now turned into a shopping mall. It has some of the big name brands.
University Of Sydney – If you are a history buff pay a visit to this University, just to look at the building. Well if you are history buff or architect or historic building enthusiast you might want to take a look at this institution. This was the first University in the Australia and New Zealand. It was established in 1851. When it started it began with just the Faculty of Arts.
City Town Hall – Still holds meeting and gathering.
The Rocks – The Rocks is a historic place which is now been converted into a shopping area and restaurant region. This was one of the earliest settlements when the British arrived. Now you will find some of the best bars, pubs that brew their own beer and serve some of the finest food. If you go there do not miss Lord Nelson, Sydney's oldest restaurant, Lowenbrau Keller, Palisade- for some good food and better views. Another must go eatery is the Pan Cake at The Rocks, expect to stand in line if you do not book a table in advance, it is that good.
The Olympic Park – The stadium and other stuff built for the 2000 Olympics.
You have a few other places like the Royal Botanical Gardens, Museums and other shopping malls-
Akuna Bay – Akuna Bay is just a 45 minute drive fromSydney. It is a part ofKu-Ring-GaiChaseNational Park. It is one of those perfect places for a weekend barbeque. It is beautiful, calm bay enclosed between a mountain range. There is also a boat club and a boat yard (that sells boats). The boat club has various boating enthusiasts like dragon boating, Kayaking, Yatching, Leisure Boating. You can also hire a house boat for rent and ride down the bay all the way Mooney Mooney Creek and beyond (Pacific Ocean).
If you would like to take it easy and just relax, the bay also has a few eateries right beside the boat yard – Sit back, indulge in the nature's beauty, and enjoy the good food.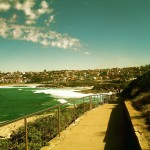 Bondi to Coogee Walk-The best walk along the beach- This is in Syndey. This is one is a local favorite, walking 6 kilometres/ 3.72 miles from the famous Bondi Beach to Coogee Beach . It takes about 2 – 5 hours based on pace at which you walk and amount of stops you take. If it is your first time, pack up a snack bag, picnic mat and your camera and it will for sure take 5 hours for you. The views you get to see are one of the best anywhere in the world. There are loads of places you'll want to stop varying from beaches, to cafes, to scenic spots, to eateries. You might even want to stop and take a swim in one of the rock pools right next to the ocean.
Jenolan caves-This is about 3.5-4 hours fromSydney.JenolanCavesare a spectacular underground a cave system with breath taking calcite and stalagmite formations. The cave system is approximately 340 million years old, making it the world's oldest known and dated open cave system.
To see the entire cave system will take more than 8 days. Almost all portions of the cave have been well lit and are accessible. A large portion of the cave system still remains under a river system that flows inside. There are 10 cave systems available for tourists, they are
Lucas Cave:  The most visited among all. It even has a cathedral inside where you can schedule your wedding. There are also regular concerts held in the "The Cathedral Chamber".
Chifley Cave:  The Chifley Cave was the first cave in the world to be lit by electric light, having been illuminated this way in 1880.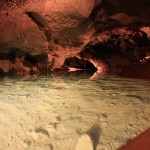 Imperial Cave: This is the easiest cave to visit for tourists. The Imperial contains some of the best fossil deposits and several Tasmanian Devil bones.
River Cave: Definetly the most beautiful of them all, has several attraction like the Minaret and the Grand Column.
Famous White beaches around Sydney
The White sand beaches are just 2-3 hours south ofSydney. They are considered to have the whitest sands inAustralia. The region is called Shoalhaven Heads. They a large number of white sand beaches with break taking beauty at its best. Each one of them listed here are unique in its own way. The water in this region, especially in some beaches is very quiet and safe (some of them literally have no waves).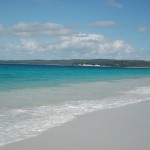 Jervis Bay – One of the best in the region, you can stay in cabins right next to the sea. It is riddled with small and beautiful inlets of water where (if lucky, but most time) have a beach all for yourself and your family. As all other beaches has clear blue water and white sand.
Cave Beach – This is a small beach that has a huge cave, nothing more. But sometimes there is no one here you'll end up having the beach for yourself.
Pebbly Beach – This is a beautiful beach with a twist, you can camp right by the sea side here. To add to that you will see hundreds of Kangaroos hoping right by you. If you are planning to camp here, better book in advance but book here.
There are so many beaches in this area likeCallalaBeach, 7 miles beach, Hyams beach and more beaches in the Huskisson area. Most of these beaches offer Whale watching, dolphin watching or diving with seals,
Things to do: Whale watching, dolphin watching, or diving with seals, fun in the sun at beaches, camping, trekking, cycling.
Type of Place: Family Vacation, Honey Moon, Summer Holiday or a much needed break.
Best time to visit: Summer Time – October – May
Weather and Climate of Sydney
Any time in Sydney is a good time, but don't be fooled into thinking that it's eternally sunny and hot here. The city may enjoy more than 300 clear days annually, but lying around on beaches isn't an option in the winter. That said, the months of July through September offer plenty of crisp sunny days and a slew of sporting event highlights. By October things are starting to warm up, and November and early December are usually stunning.
Nightlife in Sydney
Sydneyhas a very active entertainment scene and includes all forms ofSydneyentertainment. From large scale concerts and events to lively Sydneypubs to intimate bars, there is a something for everyone when it comes to Sydneynightlife.
Sydney Pubs and Clubs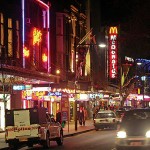 Oxford Street, between Hyde Parkand Taylor Squarehas pubs and dance clubs and a thriving gay scene. CockleBayWharfin DarlingHarbour has bars, restaurants, and nightclubs.
The Central Business District is more formal, pubs and clubs spill down to The Rocks .In  Surry Hills there are casual restaurants and pubs and Glebe, it is popular because of students of George Street in the Rocks has busy pubs.
Kings Cross is the traditional Sydney red light area with bars (some seedy), Sydney strip clubs, betting venues, Sydney brothels, burlesque shows, video shows, massage parlours, and exotic dance clubs. Kings Cross life starts at late night.
If you are not sure where to start then Darling Harbour has something for everyone and very popular during the warmer summer months.
Cinemas in Sydney
Cinemas in Sydney are spread around with the main city centre cinemas located in George Street between Park and Liverpool streets. Many cinemas have discount in  price tickets on Tuesdays.
Photo Gallery of Sydney