Cherrapunjee seems to be a place quite unknown in our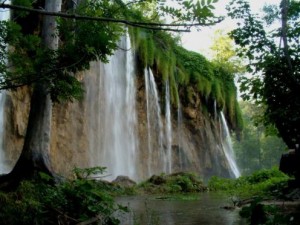 country,other than the  fact that it is the wettest place on earth, and also the state it belongs to,Meghalaya.Cherrapunji , the pristine land with ever-lasting beauty, is perhaps the only place in India, which has just one season – the monsoon. The rainfall varies from heavy to medium to light, but there is no month without rain. Another surprising fact about Cherrapunji Meghalaya is that, it rains mostly at night. Day-to-day activity does not really get disrupted by the rain. Cherrapunjee is 56km in distance from Shillong(a famous tourist place) and takes about 90 minutes drive to reach on a clear day.
But during monsoon the clouds are thick and the drive is difficult. The sights to see here are the Khasi monoliths and Mawsmai falls during the day time and Limestone caves can be visited on the way back.However, it does not rain during the months of winter and becomes completely dry.The city of Cherrapunjee is 1290 meters above sea level and much of the torrential rain runs off the mountains into the valley below. Another reason why this place has been undiscovered is mainly due to the lack of hotels and lodgings close by.
This is a stunning location and the year-round rain earned Cherrapunji coveted entry long ago into the Guinness Book of World Records as the wettest place on earth, the place where the rainfall can be recorded in feet rather than in millimeters.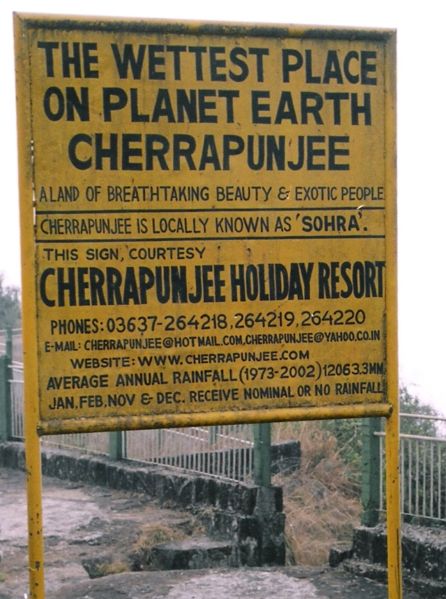 Cherrapunji is a town in Meghalaya, India which is credited as being one of the world's wettest places. It holds two Guinness world records :- For receiving the maximum amount of rainfall in a single year :- 22,987 mm (904.9,973 inches) of rainfall between August 1860 and July 1861. For receiving the maximum amount of rainfall in a single month :- 9299.96 mm (366.14 in) in July 1861.
Specialty :- Cherrapunji is a series of memorable views and one can see as far as Bangladesh. Orchids blooming a few feet away form a belt lacking of vegetation. The place exhibits a dense woods interspersed by rocky, cliffs broken by erosion. An amazing variety of rare orchids, ferns, and moss convert each sector into a botanist's paradise. Cherrapunji produces the best quality of oranges as well as pineapples. In fact, Cherrapunji oranges are the forefathers of the famous Nagpuri oranges in the Central India.
Places To See in Cherrapunji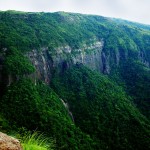 Mawsmai Falls :- Mawsmai Falls is the fourth highest falls in India. It is the alluring, the spectacular, cascading 1,035-ft-high fall lie just a few kilometers beyond Cherrapunji.
Khasi monoliths :- It is located near Mawsmai Falls which is a beautiful labyrinth of underground passages beneath age-old caves. The must visit place for amateur and experienced explorers. Elsewhere around Cherrapunji, Khasi monoliths (stones in memory of their ancestors) lie scattered around.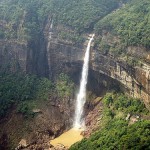 Noh Kalikai Falls :- A few kilometres to the west of Cherrapunjee, a clear bubbling stream emerges from its steep mountain bed to hurtle down a rocky precipice into a deep gorge, creating a captivating view of magnificent beauty. A local legend is connected with the Waterfall from which it has derived its name. Compared favourably with the well known Job Falls of South India, are Noh Kalikai Falls, a few kilometres to the west of Sohra (Cherrapunji). A clear fizzy stream emerges from its steep mountain bed to hurl down a stony precipice, into a deep gorge, creating an arresting view of the nature's bounty. The cascading waterfall compares favourably with the well known Job Falls of South India.
Krem Mawmluh :- The krem mawmluh cave is located about half a km west of Cherrapunji adjacent to the small hamlet of Mawmluh. The cave interestingly has a five-river way with impressive proportions. With a length of 4503 m, this cave is at present and it is the 4th longest cave in the Indian sub continent.
Krem Phyllut :- It is Situated in village Mawsmai to the south of Cherrapunjee.This cave has a large section of fossil passage, two stream ways and three entrances. The length of the cave is 1003 m.
HOW TO REACH CHERRAPUNJI
By Air :- Pawan Hans has provided a Dauphin helicopter to Govt. of Meghalaya for running regular passenger services on Guwahati- Shillong – Tura sector. After reaching Shillong, you can take a bus or taxi to Cherrapunji.
By Road :- Cherrapunji is 60 km from Shillong, the capital of Meghalaya. A steep motorable road are available which leads up to Cherrapunji. Buses and taxis ply to Cherrapunji from Shillong.
Staying in Cherrapunji
Cherrapunji has several comfortable private hotels. Staying at the Circuit House and the Dak Bungalow require prior permission from the administration.
Facts of Cherrapunji
State : Meghalaya, in the north east of India.
Best time to Travel : Through out the year.
Weather Conditions : Monsoon is the only season at Cherrapunji. The land is wet through out the year.
Location : Cherrapunji is just 60 km from Shillong, the capital city of Meghalaya.
Image Gallery Of  Cherrapunji