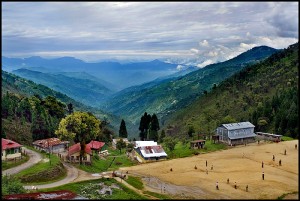 With Summer just around the corner and the temperature rising, it's that time of the year to head for the cool hills! Kid's on off from school for summer, it's the perfect time of year for a family vacation to one of India's cool hill station darjeeling.On your Incredible India Holiday, if you wish to spend some time in a picturesque hill station, ride on a toy train and see majestic snow-capped mountains you must make a trip to Darjeeling, a hill resort in North Eastern India. Darjeeling is the Queen of India's hill stations. Its setting is one of incomparable beauty. it is almost completely surrounded by fragrant tea gardens which seem to flow over the layered slopes like emerald swells on a rough sea. These are in turn interspersed by untamed jungle of Fern and Bamboo, groves of sweet smelling Coniferous trees and hamlets lost and which may be the finest this earth has to offer, It hits one like Darjeeling's true name, "Dorje Ling", or 'Place of the Thunderbolt'.
The hill resort of Darjeeling was given to the British Governor General of India Lord Bentinck in 1835 as a gesture of friendship. Darjeeling was developed into a hill resort by the British, where their officers and merchants could enjoy a peaceful holiday away from the humidity and crowds of Calcutta. Many fine educational institutions were set up in Darjeeling. It is also famous for its tea estates and picturesque toy train. You're sure to enjoy your peaceful holiday in the picturesque hill resort of Darjeeling in West Bengal, with Incredible India Holiday.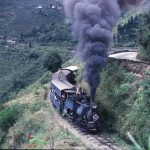 The Darjeeling Toy Train is a heritage railway line, which carries visitors on holiday up to Darjeeling. The train passes hill slopes covered with tea estates up to Ghoom, at 7407 feet, which is the highest stop on the railway line and then comes down to the hill resort of Darjeeling. On the way you can see Mt Kanchenjunga in the distance. The toy train was built by Franklin Prestage in 1888 and the tiny engine and coaches travel on a scenic route. The train moves at a slow pace so visitors can even hop off the train, admire the view, and catch up with the train again. Enjoy the attractions of Darjeeling on your Incredible India Holiday in Darjeeling a hill resort in West Bengal, India. Darjeeling has some very fascinating places of interest. The Botanical Gardens that contain a representative collection of Himalayan plants, flower and orchids. The hot houses are very interesting. The Tibetan Refugee Self Help Centre established in 1959 to help rehabilitate Tibetan refugees who fled from Tibet produces superb carpets, woollens, wood carvings and leather work.
Getting Around in Darjeeling
Entering Darjeeling is like travelling back in time to the days of the British Raj, a vertical Victorian London – like town populated with oriental faces. Church spires and brick chimneys dominate the skyline. Darjeeling is a small town and the salubrious climate means walks around town are an extremely enjoyable means of getting around. For longer trips, taxis are available in stands near the entrance to the Mall.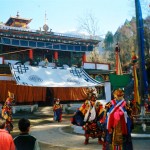 Dhoom Gompa, Darjeeling :About 8 kms from Darjeeling is the Dhoom Gompa. Here a very beautiful statue of the Maitrayie Buddha is established. The Monastery has also preserved some of the rare handwritten Buddhist manuscripts.
The Mall: The Mall is Darjeeling's popular commercial street. It is lined with Tibetans selling hand-knitted sweaters and souvenir shops chock-full of Himalayan artifacts and both real and imitation antiques. Photo shops carry turn-of-the-century photos as well as specialising in hand-painted black and white prints with glowing oil colours. The Mall leads to Chaurasta, a square, which doubles as a bandstand, a pony riding arena for children and a haven for lovers.
Chowrasta: The Chowrasta, meaning crossroad, is a hive of commercial activity. The Mall Road originates and culminates at the Chowrasta. This is the heart of Victorian Darjeeling. Here hotels, restaurants and shops brush against each other. The shops and stalls are a veritable paradise for souvenir collectors. The Bhutanese sellers display their wares. Woollen garments, tribal ornaments, Thankas, rosaries, brass statuettes and Gorkha daggers are kept on display for sale. Foreign goods are also available in some shops. Local handicrafts are much in demand.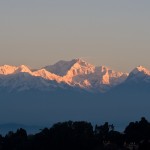 Obeservatory Hill: This point provides one of the breathtaking views of Kanchenjunga peaks,The oldest site in Darjeeling is Observatory Hill, known locally as "Makal-Babu-Ko-Thaan". According to legend, a Red Hat Buddhist Monastery called Dorje Ling, or 'place of the Thunderbolt', stood at this very spot. The Nepalis destroyed it in the 19th century. The Shivas and Buddhists share the temple that stands there today. Be aware of the monkey groups as some them are very aggressive.
Botanical Gardens, Darjeeling: This place is worth a visit for its exotic and exclusive collection of a variety of Himalayan plants, flowers and orchids. This place is near the Darjeeling taxi stand. The gardens also has a green house.
Himalayan Mountaineering Institute: A spot not to be missed is the Himalayan Mountaineering Institute created by the late Tenzing Norgay, the Sherpa who conquered Mt Everest with Sir Edmund Hillary on 29 May 1953. A display of equipment used on the climb is one of the highlights. A zoological garden nearby has an assortment of wildlife such as yaks, Siberian tigers and red pandas who call the region their home.
Darjeeling Rangeet Valley Passenger Ropeway: At North Point about 3-km from the town, this is the first passenger ropeway in India. For reservation of ropeway seats please contact – Officer in-charge, Darjeeling Rangeet Valley Ropeway Station, North Point, Darjeeling. Regular share taxi service is available from Market Motor and Taxi Stand is to the Ropeway Station.
Nearby Attractions from Darjeeling
Tibetan Refuge Camp: The area in and around Darjeeling is a treasure chest of interesting destinations. The Tibetan Refugee self-help scheme produces traditional artifacts, jewellery and carpets for tourist consumption.
Lloyd's Botanical Garden: Lloyd's Botanical Garden displays a fine collection of Himalayan fauna for those with an interest, and for punters there is horseracing at Lebong, the smallest and highest racecourse in the world.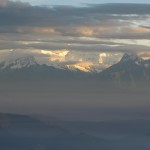 Tiger Hill: Situated at an altitude of 2,590m (8,482 ft.) and 13-km from the town, this spot has earned international fame for the magnificent view of the sunrise over "Kanchenjunga" and the great Eastern Himalayan Mountains. Even Mount Everest, the world's highest peak, is visible from here.
Phalut & Sandakphu: A week's smallest-trip of Phalut and Sandakphu will get one within reach of the high peaks; for the onlooker it affords a more spectacular panorama than at Tiger Hill. Giant flowering Rhododendron trees, a pointillism of reds pinks and whites Dwarfs comprise of the en route trail. On attaining heights of over 3,048m, one is surrounded by skeletal trees devoid of leaves and branches, which are especially eerie when the clouds roll in and envelop the area.
Pashupati: Further afield, in Pashupati on the Nepal border, one can purchase foreign goods at reasonable prices, view wildlife such as the endangered one-horned Rhino, Deer, Gaur, and wild boar while seated atop an Elephant's back at Jaldapara Game Park; learn of the Lepcha legend at the confluence of the Teesta and Ranjeet Rivers; relive Kalimpong's past glory as a trading post by visiting the market filled with traditional Tibetan medicine, spices, musk, wool and silk; or for the truly adventurous-hire some ponies and a crew and take to the hills.
Kurseong: Kurseong is mid-way between Siliguri and Darjeeling. The way from Darjeeling to Kurseong is generally open through out the year. So, the toy train is not coming to Siliguri then one can come up to Kurseong. This place is equally beautiful and is full of natural splendour.
Mirik: Mirik is 52-km from Siliguri and 55-km from the nearest Airfield of Bagdogra. Mirik is being developed as a new hill station in the mountains. Tea estates, orange orchards and cardamom plantations surround Mirik. It has all the facilities to fulfill the needs of a tourist. The lake of Mirik is a nice stretch of water where you can enjoy horse riding and boating. You will be chased by a number of horse riders who will offer you an affordable ride on the horse, even if you dont want one. The best way to avoid them quickly is to tell them that you will take a ride after boating and lunch. Some riverside restaurants can offer average quality meals.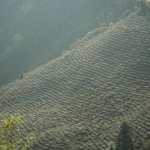 Siliguri / New Jalpaiguri: The twin Cities of Siliguri and New Jalpaiguri are the departure point to Darjeeling, Sikkim and the North Eastern States. Being the nodal point this place has become very busy and crowded. Siliguri also acts as a transit point for Nepal. Tourists come to Siliguri and New Jalpaiguri mainly to change bus or catch trains.
Kalimpong: Kalimpong is within Darjeeling province and is a sub-division of Darjeeling. It is a small but bustling town in the Himalayan foothills of West Bengal – Kalimpong is at an altitude of 1,250m. This bazaar town was originally a part of Bhutan but later it was taken over by the British and finally it settled down with West Bengal. This is a must see for all the nature lovers visiting Darjeeling. The view of tea gardens from a park on the top of this hill will sweep you off your feet. You will find yourself in a garden on the top of the hill. You'll be surrounded on all sides by tea gardens going thousands of feet deep, and the entire picturesque landscape guarded well on all sides by high rise mountains. Kalimpong is a little warmer than Darjeeling. On your way from Darjeeling to Kalimpong, you will come across many hill points and a picturesque view of river Teesta. You can enjoy rafting on the river, if you have enough number of enthusiasts in the group.
Natural History Museum, Darjeeling: A great place to be at, for all those who have great interest in knowing about the history.The museum has a collection of over 4300 specimen . Established in 1903, this natural history museum packs in its folds a rich collection of fauna found in the Himalayas and in Bengal. Among the attractions are included the estuarine crocodiles. This unique museum also has a good collection of butterflies. The mineral forms of various stones are displayed in a very attractive manner in the museum.
Kanchenjunga View, Darjeeling: From Darjeeling one can have the best, uninterrupted view of the worlds third highest peak. Bhan Bhakta Sarani provides one of the enthralling views of these snow capped peaks. The Chowrasta also gives you a good sight to the Kanchenjunga peak.
Darjeeling Zoological Gardens: The zoo is situated two kms form the main town. This zoological garden of Darjeeling houses some of the rare species of animals and birds. This is the only zoo in India having the Siberian Tigers. Apart from these the rare Red Panda is also there. The Snow Leopards, Great Grey Birds, Snow Yaks are some the animals which are attracting tourist in great numbers.
What to do in Darjeeling – Adventure Sports
Darjeeling is one of the oldest hill stations in India, and has plenty of options, both for those seeking a lazy getaway from the hot plains, as well as nature enthusiasts and adrenaline junkies. Apart from sights within the town, there are plenty of trek options along the Himalayan ridges on the Indo-Nepal border near Darjeeling. The most popular one being the Singhalia Ridge Trail. Bookings for guides, porters and accommodation on the trail can be made in Darjeeling or in the nearby town of Manebhanjang, which serves as the trail-head.
Senchal Golf Course: This 9-hole Golf Cource is one of the highest Golf Cource in the world (altitude 8,150 ft). It is near Tiger Hill and has a Club House and a Tourist Lodge.
Lebong Race Course: About 8-km from the town, it is one of the smallest and highest Race Course in the world. Races are held during Spring & Autumn season under the management of local Gymkhana Club
Trekking: Trekking in the Darjeeling Hills began almost a century ago. Infact, the first organised trekking route in India was established here along the Sangalila range. The trek begins in Darjeeling and proceeds through Maneybhanjyang, Tonglu, Sandakphu and ends in Phalut. The alluring natural beauty is replete with countless varieties of Rhododendrons, Magnolias, Orchids and Wild Flowers. The dense forests, the verdant meadows, the savage mass of Mt. Everest, the everlasting beauty of Kanchenjunga, the rugged Lhotse or the mysterious Makalu – all in one sweeping glance, present an experience that can never be equaled. To top this there are glorious mountain sights including the view of the four majestic over 8000 meter high peaks of Everest, Kanchenjunga, Makalu and Lhotse from the vintage point of Sandakphu.
What and Where to Eat
'Momos' – a steamed delicacy are a staple food offered by almost every eating joint. Several eateries which dish out North Indian, Nepali, Tibetan, and continental fare dot the area around the Mall.
Glenary's Bakery and Cafe. A good place for pastries, the ubiquitous Darjeeling cuppa, sizzerlers and North Indian fare. Offers nice views of the Kanchendzonga on clear days.
Hot Stimulating Cafe. On the way to Himalayan Mountaineering Institute, on Hooker Road, is this lovely little cozy place. The Momos here are awesome! They even offer a Momo-cooking course! The guy who owns it can double up as your local guide, trekking along with you to some adventurous outings from Darjeeling.
One major problem is everything closes pretty early in the night (8 PM). So do keep something in stock to eat, if you are planning to stay up late.
Darjeeling – Where to Stay
Accommodation is easily available at the hill resort of Darjeeling. There are several hotels that dot Darjeeling. Resorts and Hostels also offer comfortable stay. You may pick the one that suits your budget.
Good and hygienic food is also available at reasonable rates in Darjeeling. There are many restaurants and eateries that cater to the needs of the tourists. There are eating joints known especially for milk shakes, pastries and scrumptious patties. For whose who wish to lift their spirits a glass of the local chhang (an intoxicant drink made of barley) is a must try!
Darjeeling – Fairs and Festival
The Teesta Tea and Tourism Festival is an annual festival that takes place in Darjeeling during the months of December-January. Competitions and stalls add color to the festival.
Darjeeling – Best Time to Visit
The best time to visit Darjeeling is from March-May or September-November. The rains which start by May end are heavy downpours making living conditions cold and dreary. In winter there is a drastic fall in temperature from the summer's 15 to 25 degrees centigrade to 2 to 10 degrees in winter.
How To Reach Darjeeling
Air: The nearest airport to Darjeeling in Bagdogra, 100-km south. ADGHC bus leaves the tourist lodge and club side around 8 am each day to connect with flights; tickets for the bus can be booked at the tourist bureau.
Rail: New Jalpaiguri (NJP) near Siliguri is the nearest station on the main inter-city line. Direct trains to NJP run from Delhi (approx 27 hours) several times a day. From there, the famous Darjeeling Himalayan Railway, known to all as the 'Toy Train' completes the journey to Darjeeling. This route is very popular with tourists as it passes through some very picturesque mountain scenery and has been the subject of many romantic articles. They have tourist quotas for trains to Delhi, Kolkataa, Bangalore, Cochin and Thiruvananthapuram.
Road: Buses and minibuses run every thirty minutes or so to Siliguri from the bus stand at the bazaar. Buses leave for Mirik every thirty minutes. Two minibuses run each day run to Gangtok and one minibus leaves every day for Kalimpong. Although it's possible to buy bus tickets for Kathmandu, tourists still have to change buses at Siliguri.
Darjeeling – Fast Facts
Area 10.57 sq km
Altitude 2,134 m above sea level
Population 73,062
Languages Bengali, Nepali, Hindi, and English
Religion Hindus (77.95%), Buddhist (11.95%), Others (10.1%)
Annual Mean Rainfall 3,200 mm
Maximum Temperature 14.89°C
Minimum Temperature 5°C
STD Code 0354
Image Gallery of Darjeeling